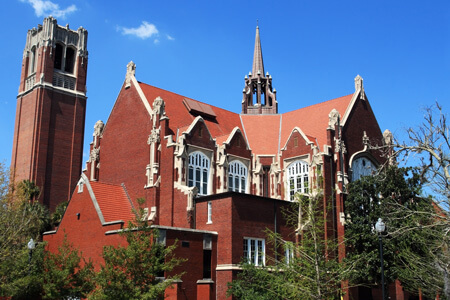 Find Out What UF Offers Students Living in Gainesville, FL
University of Florida is one of the top-rated public universities in the country. As such, it strives to provide students with the tools they need to succeed during their time at UF. In order to help students thrive, UF provides various services which also help students be well-rounded.
Safety at UF | Living, Working & Studying On Campus
No student will be able to focus appropriately on schoolwork or learning if they do not feel safe. UF has one of the largest campus police forces in the country. Sometimes, it may be frightening to walk to your UF housing at night by yourself. No student will ever be required to do this because of the service called SNAP. If a student calls, he or she will receive a free van ride or escort home.
Similarly, UF Alerts are sent to every student's and staff member's phones if there is a dangerous incident or weather. This quick form of communication allows every person to quickly stay informed and up to date. If you ever feel threatened while walking on campus, blue poles are located frequently along main paths. When you push the button, not only will you be put in contact with a dispatcher, but the police will be able to see your precise location.
UF Counseling Resources
In order to ensure UF students are successful after graduation, UF offers the Career Resource Center. Discovering your next step in life can be overwhelming. Therefore, the advisors are equipped to make this transition a bit easier. They can help edit your résumé, perform mock interviews and explore various potential majors. The Career Resource Center also hosts a Career Showcase every semester that helps connect students with businesses for potential jobs and internships.
Because of fear of the future, normal college stressors and difficult life events, college can unfortunately become overwhelming very quickly. The Counseling and Wellness Center provides students with walk-in appointments, testing for disorders, online anxiety therapy and group and therapy counseling. Without mental health, students will not be able to thrive socially or academically.
The Disability Resource Center assists students who have psychological, learning or physical disabilities. This office will attempt to provide tools needed to assist with disabilities, including note taking, reduced course load, audio recorded lectures, extra time for assignments, assistive listening devices, and more. The center's goal is to ensure all students have equal access to education. Academic advisors can assist you if you have questions about your major, minor or requirements needed to graduate.
Gainesville Student Activities
While in college, you'll want to make memories that you can tell your grandchildren about one day. In order to have these memories, you need people to make them with. Becoming involved on campus is one the most beneficial things you can do to become socially active. UF has more than 1,000 organizations you can join. With that many choices, you will be sure to find a club that aligns with your interests. Not only will you have the chance to find friends with similar interests, but you will find leadership opportunities that will help with future career searches.
The University of Florida is also well-known for their elite sports teams. Many of its teams are nationally ranked. There is nothing like cheering in the stadiums after a win with your fellow Gators to bond you. Additionally, most athletic events are free for UF students. The only exception is football, but season tickets are worth the price.
Nearly every form of Gainesville student living offers some form of organized social event. Resident assistants work for dorms to bring students together, while large student apartment complexes host various social functions to help their residents have fun and interact with each other. UF also hosts Gator Nights every Friday night. Each Friday features different activities, food and a new movie — and it's all for free! While it may seem frightening to attend these gatherings, just remember that everyone else is probably nervous and looking for friends.
Fitness Options at UF
Many college students value exercise and maintaining their health, and UF prioritizes it as well. The university provides two large fitness centers which are free for all UF students. Southwest Recreation Center and Student Recreation and Fitness Center feature state-of-the-art equipment and exercise classes. These centers are located at UF, so they are close by for all Gainesville apartments near UF. You do not need to run on a treadmill to get a good workout. The Department of Recreational Sports (RecSports), as a whole, provides many potential choices for remaining active such as tennis courts, swimming pools, and basketball courts. Similarly, Lake Wauburg offers a variety of activities that will provide exercise while you are having fun. While there, you can kayak, canoe, rock climb, water ski and sail all for free as a UF student.
UF Student Housing On-Campus
There are many forms of student housing Gainesville has to offer. Because every student is different, so is every housing option. On-campus, you can enjoy the social interaction of being surrounded by thousands of students and being only a short walk from your classes. You can choose between multiple locations on campus and decide whether you would like an individual or shared room.
However, not everyone will live on-campus. Therefore, UF offers an off campus housing search to help students get matched with their ideal housing option. With this tool, you can find the best apartments in Gainesville for UF students. Luxury apartments, such as The Standard at Gainesville in Gainesville, FL, provide amenities such as a rooftop pool, golf simulator and a cyber café which will make your experience like no one else's.
Resources Offered by UF
Overall, UF attempts to provide tools that will help students succeed socially, mentally and academically. So take advantage of these resources and start your path to the best college experience you can have.