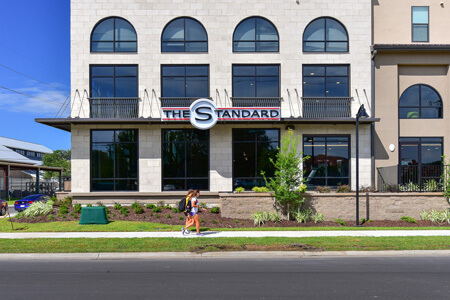 Luxury Student Living in Gainesville, FL
The college years are spent helping students discover what they want to do for the rest of their lives. This involves a lot of soul searching and exhaustive studying. However, it is important to make the most of this time as well. Living in a cramped or old apartment will make your experience that much more difficult. However, with luxury apartments in Gainesville, FL, you can thoroughly enjoy this stage of your life.
What is Luxury Student Living?
Recently the term "luxury student living" has been used more often. However, most people probably do not know what it actually means. This term refers to housing that focuses on providing students with amenities that facilitate a balanced lifestyle. While luxury apartment complexes do come equipped with many "extras" that allow students to have fun, it is more than that. These apartments provide amenities such as secure access to buildings, 24-hour study lounges and equipped fitness centers.
National Trend of Luxury of Apartments
In the past, students were forced to choose apartments in Gainesville based on whatever was available (and most likely the cheapest). Therefore, they frequently would end up in units that lacked space and were falling apart. However, students today are making changes. They recognize they will be spending a fair amount of time in their apartment and therefore want it to match their lifestyle. This generation also has access to more money than previous generations and are able to spend it on aspects that matter such as their living quarters. As the demand for high-quality apartments increase, businesses across the company are responding by building luxury apartment complexes near college campuses. Students find when they have these amenities on-hand, they feel more at home and are therefore able to be more efficient when they sit down to study.
Luxury Amenities Available for Students
The features available for luxury student housing near UF varies depends on the company you choose but there are certain similarities that are common.
Spacious Floorplans | Luxury Apartments
One thing students need more than anything else is space. There is nothing worse than feeling as if you have no privacy or space to yourself. Luxury apartments ensure students have more than ample space for entertaining and possessions. Students have access to individual bathrooms and bedrooms when privacy is desired and large communal areas for socializing. The Standard at Gainesville provides a range of floorplans for two to six students in each apartment while still providing each occupant with the desired individual areas.
Location & Parking | Luxury Housing Features
Prime Gainesville apartments will be close to UF campus. This convenience allows students to quickly get to classes without the hassle of long bus rides. Parking can be another potential frustrating aspect to student life. With so many students in each complex, you may have a hard time finding a spot or have to park far away from your apartment. Quality luxury apartments will ensure there is enough parking for you. The Standard at Gainesville, for example, has 12,000 parking spaces available for residents.
Computer Lounges
In order to excel in your classes, you will need access to a computer. Even if you have a computer, it may require repairs. Luxury apartments offer computer labs that allow students to use modern computers and printers whenever they need. Study lounges are also provided to give students a place to study away from cold and crowded campus libraries. These areas are the perfect place to escape to if you need a break from your roommates but do not want to go to campus.
On-Site Security | Luxury Student Housing
A major concern parents have for their college-going child is that they will no longer be able to protect him or her. With luxury apartments, parents do not need to worry. Often these UF apartments have gated communities that limit the flow of people entering the complex. Therefore, only residents and their guests are permitted to enter. Further, apartments want their residents to always feel safe. For this reason, security is available on-site in case of any incident. Once called, they will be able to quickly arrive at the area in question and assist in any possible way. Further, electronic access is available for both units and individual rooms. Physical keys have potential to be copied and placed in the hands of wanted visitors, while electronic access is difficult to bypass.
Fitness Centers | Luxury Amenities for Students
Physical activity is important to remaining healthy and happy. The best apartments in Gainesville for UF students understand this and attempt to provide as many resources as possible to facilitate activity. Some have state-of-the-art fitness centers with all of the equipment you need for a good workout. Using a gym within your complex is not only convenient, but you will not have to use the gyms on campus that are overcrowded with students. In fact, studies have found that regular physical activity not only promotes good health but helps people retain more information which will be helpful for studying.
Clubhouse & Pool | Luxury Living
Many luxury apartment complexes offer a pool and clubhouse for residents. The Standard at Gainesville stands out with its resort-style rooftop pools and cabanas. As a resident, you will be able to swim some laps or study by the pool.
Clubhouses differ in amenities depending on location. Often they feature high definition TVs, gaming rooms, comfortable seating and working kitchens. With such a range of functions, you will be able to relax with your friends in style.
Luxurious Living at The Standard at Gainesville
Overall, luxury apartments provide students with an apartment that will best facilitate their lifestyles. The Standard at Gainesville offers amenities that support the social, academic and physical growth necessary to thrive while in college. Take time to come tour The Standard at Gainesville and find your new home.