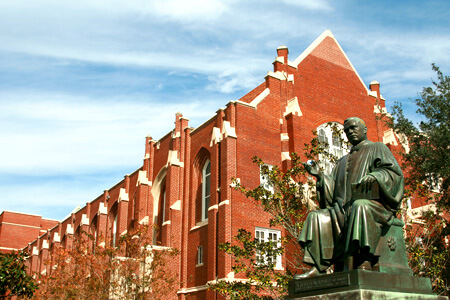 Community Guide for Students at UF
College is a time period every young student looks forward to. It's an opportunity to determine the foundation for the rest of your career, assert some independence to figure out who you are as a person, and make lifelong friendships. If you are attending the University of Florida, it is important to learn about the surrounding area. Gainesville is the perfect complement to UF and is the definition of a college town. Everywhere you go, you will be sure to find the Gator spirit and a friendly face. With a plethora of college students, there are also plenty of Gainesville student apartments for you to choose from.
Study Spots Near UF in Gainesville
Studying in a library can quickly become monotonous, even with the multitude of UF libraries. Especially near finals, you may need a change of location to give you an extra push. Gainesville has many different coffee shops that are ideal for studying or just enjoying a cup of coffee. Pascal's Coffeehouse is located right off of campus. Its close proximity to classes and UF housing makes it ideal for those without a car or for studying between classes. The quality of the coffee is amazing, and you will want to be sure you get a punch card to work toward a free coffee.
There are also locations farther away from campus that are preferable. Cymplify offers a quiet and rustic atmosphere perfect for studying. Its unique coffee flavors make you want to try them all. Cymplify even has a couple bean bag chairs for the ultimate in lounging. Seating is somewhat limited though, so make sure you get there early.
Though there are plenty of unique cafés, there are plenty of quality chain coffee shops as well. There are multiple Starbucks locations throughout Gainesville. However, you may want to commute farther to the locations downtown or in Tioga. Though you will have to drive or catch a bus, these locations tend to have fewer students and a more relaxed atmosphere, which will be most helpful during finals when students are filling up libraries and cafés. Barnie's Coffee provides both tables and comfy chairs, so whatever your preferred study position is, you will find a spot. Be sure to bring a tumbler or favorite coffee mug for a discount.
Gainesville Restaurants
After a long day of studying, you may need to reward yourself by eating out or maybe you just want a fun night out with friends. Gainesville has plenty of options to ensure you will find your new favorite. Spend time exploring Downtown Gainesville where there are a variety of restaurants with different cuisines. If you are still hungry after dinner, be sure to try some gelato which can be found downtown.
Haile Plantation offers a very different atmosphere. This area exhibits the small town charm that will make you feel quickly at home. Eat at one of the local restaurants or grab a coffee and baked good at a café. If you come on a Saturday, you will discover the weekly farmers market. Locals from all around the area meet every week to sell their fresh produce and homemade products. Even if you decide not to buy anything, it is fun to browse and try samples.
Nature Highlights in Gainesville
If you find you are spending too much time in your student housing near UF and want to get away, Gainesville has several trails you should visit. There are multiple hiking trails perfect for fresh air and light exercise. La Chua Trail at Paynes Prairie Preserve State Park is an ideal choice. Because of its location in the wilderness, there is a high likelihood you will encounter wildlife such as alligators, wild horses and bison.
There are also plenty of nature areas closer to campus. Lake Alice is a beautiful location where you can jog on the path or sit at a picnic table. The Baughman Center is also located here, whose stunning architecture is sure to amaze you. Across the street, you will find the UF Bat Barn which houses hundred of bats. If you go at sunset, you can watch them all fly out at once in search of food.
Housing Options Near the University of Florida
One of the most integral decisions you will need to make when moving to Gainesville is where to live. The area offers student housing Gainesville options that range from dorms to luxury apartments. Make sure to explore all of your choices until you determine the one that best fits your needs and desires.
There is no need to sacrifice anything when you live in luxury apartments in Gainesville, FL. The Standard at Gainesville, for example, offers secure, electronic access to cottages, variety of floorplans, up-to-date appliances and spacious, private rooms. Living here will allow you to have the benefit of walking to class without the inconvenience of living in a dorm.
Gainesville, FL Museums
There are also plenty of educational forms of entertainment in Gainesville. The Harn Museum of Art, for example, represents art from different cultures. Even if you are not an art connoisseur, you will still have fun examining the various pieces.
The Florida Museum of Natural History is a perfect outing with friends. With interesting and interactive exhibits, it's easy to stay engaged. It features exhibits such as reconstructed prehistoric skeletons and a collection of gigantic shark jaws with an opening the size of a standing human. Connected to the museum is the Butterfly Rainforest. It is home to 60-80 species of different butterflies an. Though you are not allowed to touch them, sometimes, if you remain still, they may come and rest on you.
Student Guide to Gainesville
Overall, there are many elements that Gainesville has to enhance your college experience. Grab some friends and begin exploring what it has to offer. You may end up making some of your favorite memories or discover your new regular hang out spot.