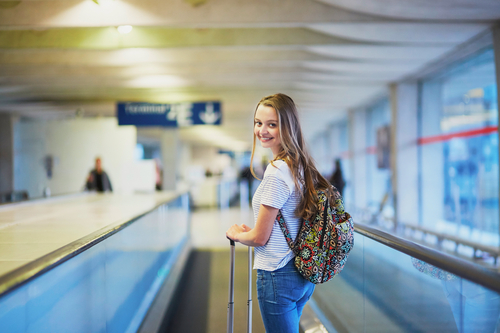 GNV vs. MCO: Flying to Gainesville
When you want to fly in or out of Gainesville you have two options. You can either choose to use the Gainesville Regional Airport (GNV) or the closest alternative which is the Orlando International Airport (MCO). Both have advantages and disadvantages that you will need to compare to your preferences.
Gainesville Regional Airport
This airport is conveniently located three miles northeast of Gainesville. Because of its location, you will not need to travel as far to your home following a long flight. It features American through Miami, Delta through Atlanta and U.S. Airways through Charlotte. Less options and traffic result in an increase in the cost of a flight. Tickets from GNV are significantly more expensive than the equivalent ticket in Orlando. If you are in need of a rental car, GNV offers options such as Alamo, Avis, Budget, Enterprise, Hertz and National to help you get to your UF housing. The Regional Transit Services (bus) has two different bus routes (#25 and #39) that you can utilize to travel to or from the airport. If you are staying in a hotel, there are a variety of choices that provide shuttles that will help you commute such as Best Western Gateway Grand, Hilton University of Florida Conference Center, Holiday Inn University Center and others. If you are unsure about whether or not your hotel offers this service, you can contact them.
Because the airport is smaller than average, there is only one option for food: Tailwind Gainesville. It has both a bar and full restaurant. Travellers can access this restaurant before or after they cross security.
Due to the increase in large jets, GNV has increased the efficiency of their parking. There are now more lanes available for exiting the parking area so you will have the ability to self-pay, which decreases the amount of time each person will take. After you arrive, you can travel to your luxury apartment in Gainesville, FL by driving your car, getting a rental, taking the bus or having a friend pick you up. If location is most important to you, then Gainesville Regional airport is your best option.
Orlando International Airport
The Orlando International Airport is a full two hours away from Gainesville. Time is a significant inconvenience when considering traffic or late flights. However, a larger airport provides cheaper tickets and more amenities. MCO services travellers with 38 different airlines. With so many choices, customers are sure to find the flights they are looking for. The Orlando International airport provides clients with the choice between 10 rental car agencies. Most of these are located at the airport so you will not be required to take a shuttle. Though Orlando is two hours from Gainesville which is inconvenient, there is a hotel within the airport. If you have a late flight and would rather not drive back to your Gainesville student apartmentsthat night, you could stay in the hotel and fly back in the morning. If you find yourself with extra time, Orlando International Airport will not disappoint you. It features over 130 stores and restaurants so you will be sure to find delicious food and shops to browse.
Due to the large number of travellers constantly moving through, there are plenty of parking spaces and the flow of traffic has been standardized. There are various parking rates depending on how long you keep your car in the garage. If you do not have a car, there are also options available such as free shuttles to your hotel, the local bus and taxis. The SunRail is now connected to the airport as well. In order to commute back to your apartments in Gainesville, FL, you will need to drive your car, or a rental for two hours. If you do not mind the extra time, the Orlando International Airport will make up for this disadvantage through its frequency of flights, tickets prices and amenities.
After living in luxury apartments in Gainesville, FL, such as The Standard at Gainesville, you will want to travel in luxury as well. If you prefer less travel time to your airport, than you will want to use Gainesville Regional Airport. However, if you do not mind driving and enjoy the features and ease associated with a large, developed airport, than you will want to travel through Orlando International Airport.